Meet Dr. Edward Romano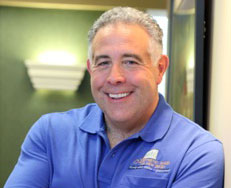 Dr. Edward Romano is a premier cosmetic dentist and implant dentist. His unique combination of dental expertise and artistry enables him to create stunning, healthy smiles for his patients. Whether you are seeking a complete smile makeover or a discreet enhancement, he can give you the smile you've always wanted.
Dr. Romano graduated from the prestigious Georgetown University School of Dentistry in 1987. He keeps his clinical skills current by attending countless hours of continuing education courses in general and cosmetic dentistry. He is one of the past presidents of the New Jersey chapter of the American Academy of Cosmetic Dentistry and is an attending dentist at Morristown Medical Center, where he teaches cosmetic dentistry, general dentistry, and implant dentistry techniques to dental residents.
In addition to serving as the past President of the New Jersey chapter of the American Academy of Cosmetic Dentistry, Dr. Romano has also been featured on many television news programs, including Dateline NBC, CNN, MSNBC, and WPIX news. He has lectured nationally to dentists at the prestigious ADA National meeting as well as the New York and Washington, DC annual sessions. He continues to lecture nationwide to pass along his knowledge and experience to other dentists. Dr. Romano has also taught cosmetic dentistry at the esteemed Aesthetic Advantage Continuum.
Dr Romano is great! He will treat you as his family member. My consultation was very informative, he took time to explain best options.
D.B.
In his spare time, Dr. Romano enjoys spending time with the love of his life, Anne, and two children, Joseph and Corrine.
Contact Our Practice
For more information about Dr. Edward Romano, our practice, or any procedures we perform, please contact our practice today.