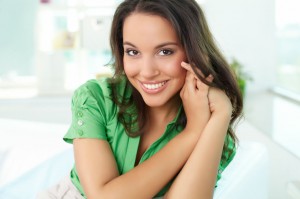 At Aesthetic Smiles of New Jersey, our cosmetic dentistry procedures can provide wonders for not only your smile, but for the overall function of your teeth. We offer a wide range of cosmetic dentistry treatments, including teeth whitening, porcelain veneers and dental implants to help you achieve beautiful and long-lasting results. Our treatments are customized for each patient and use state-of-the-art technology to enhance the appearance of your smile. Our advanced technology also allows us to provide minimally invasive, painless procedures for added comfort and convenience.
Please browse through our cosmetic dentistry procedures below and click the links for more detailed descriptions.
Porcelain Veneers
Porcelain veneers can help our patients achieve the smile they deserve and desire. The wafer-thin porcelain veneers are gently attached to the outside of the tooth, and can address cosmetic concerns such as stained and discolored teeth, chips and cracks, and uneven smiles.
BriteSmile® Teeth Whitening
BriteSmile® teeth whitening treatments at our practice can make your teeth up to 14 shades whiter in just one hour. Additionally, BriteSmile® can reduce the appearance of discoloration and stains for long-lasting results.
Dental Implants
Dental implants offer a permanent solution to replace missing teeth. Unlike dentures, dental implants do not move along the gums and are designed to mimic your natural teeth for a beautiful smile.
Customized Smile Makeover
Smile makeovers at our practice include customized treatment plans using a combination of advanced dental procedures to enhance the appearance of your smile. Common treatments used for a smile makeover include porcelain veneers and teeth whitening.
Invisalign®
Invisalign® is an innovative orthodontic solution that can discreetly straighten your teeth without experiencing the discomfort associated with traditional metal braces. You will be given a set of clear teeth aligners that are each designed to gradually straighten your teeth to the desired position.
Non-invasive Wrinkle Eraser
Our non-invasive wrinkle eraser can effectively reduce wrinkles around the upper lip for a more youthful, vibrant appearance. This treatment is pain-free and can effectively enhance your smile by using appropriately sized porcelain veneers.
Six Month Smiles
Six Month Smiles can straighten misaligned teeth in a gentle and more discreet manner than classic metal braces. The treatment can take as little as six months, making it easy and fast to get the smile you've always wanted.
Contact Our Practice
For more information about the procedures we offer, or to schedule an appointment, please contact our practice today.