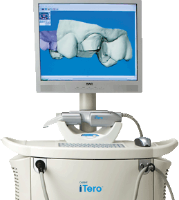 Many cosmetic dentistry procedures such as Invisalign® and porcelain veneers require impressions to be made of your teeth to provide the most effective results. Traditionally, these impressions involve patients biting down on a putty-like substance to formulate a mold of the mouth. The iTero™ system creates digital impressions using a computer scanner to craft a customized restoration for your teeth in minutes.
iTero™ Technology and Porcelain Crowns
Porcelain dental crowns are used to protect and disguise damaged, cracked or chipped teeth and can help you achieve a more balanced smile. Using iTero™ during the porcelain crown process can help us provide you with a more effective treatment plan for long-lasting results.
To initiate the process, our dentists will take a digital impression of your teeth using iTero™ technology. These impressions are taken with a tiny wand without using any messy or inaccurate molds. Once the impressions are finalized, our dentists can craft a customized restoration using CEREC® 3D technology while you relax in the dentist's chair.
In addition to being used with porcelain crowns, iTero™ technology can also be used during the placement process of porcelain veneers.
Contact Our Practice
If you are interested in learning more about restorations using iTero™ advanced technology, please contact our practice today to schedule a consultation.