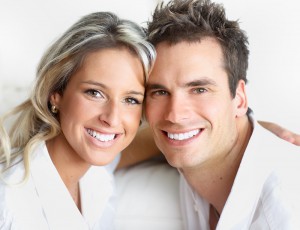 Because there are so many different cosmetic dentistry options, finding the right procedure to suit your needs can be difficult. Our skilled cosmetic dentists offer customized smile makeover options involving a combination of cosmetic dentistry procedures to help you achieve the smile you deserve.
Using state-of-the-art techniques, our team can design your ideal smile and even show you a preview of the results with advanced computer imaging, taking into account your face shape, tooth color, and tooth size.
Smile Makeover Options
During your initial consultation, our dentists will discuss all of your treatment options with you based on your goals and expectations. Smile makeovers include a combination of advanced procedures, including:
We also offer sedation dentistry options for patients who have dental anxiety to make your visit as comfortable as possible.
The Smile Makeover Process
To begin the smile makeover process, our dentists will perform a thorough examination of your teeth and gums to figure out the most beneficial treatment plan for your unique needs. Using our advanced computer imaging technology, we can show you before and after photos to give you an idea of what your smile will look like. We take into account a variety of factors including:
Face Shape: Your face shape can affect the shape of your teeth. We will formulate a treatment plan that compliments the shape of your face for an improved appearance.
Tooth Size: With age, teeth can become shorter through years of wear and tear. To achieve more youthful look, we can lengthen your front teeth using advanced techniques.
Tooth Color: Dark teeth are typically associated with an aged mouth, while white teeth are associated with youth. To help restore the color of your teeth, we can lighten your teeth to match your personal style.
After you decide on the smile design of your choice, we will create an individualized treatment plan with a combination of cosmetic and restorative procedures and perform the procedure using advanced techniques to minimize any discomfort. The procedure can typically be completed within two office visits.
Contact Our Practice
For more information about our customized smile makeovers, or to schedule a consultation, please contact our practice today.