Restore Your Smile Without The Wait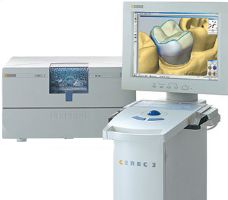 Porcelain veneers and dental crowns can dramatically improve the appearance and health of your teeth, addressing common dental concerns such as stains, cracks, chips, severe damage, and even the overall shape of a tooth. Though these cosmetic treatments are popular solutions for many dental issues, the restorations can sometimes take up to a week or more to create and, depending on the practice, often require multiple office visits. For patients who have an upcoming job interview, wedding, vacation, or other special event, this wait can be a big inconvenience. Fortunately, at Aesthetic Smiles of New Jersey, our dentists can often provide patients with custom-tailored tooth restorations in a single day.
The innovative technology that makes these single-visit restorations possible is called the CEREC® system. 3D computer imaging is first used to capture a digital impression of your teeth to help ensure a precise comfortable fit. With an in-office milling unit, your custom-made veneer or crown can then be created onsite within an hour. Finally, your restoration is tinted to match the shade of your natural teeth and applied to the affected tooth for a seamless and beautiful appearance. With CEREC® 3D technology, you can renew your teeth quickly, allowing you to go right back out in the world and show off your new smile!
Contact Us
If you would like more information about porcelain veneers, dental crowns, or our single-visit CEREC® restorations, please contact us today to schedule an appointment.