What are the Side Effects of Sedation Dentistry?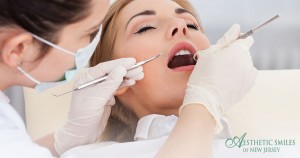 Our sedation dentistry options have allowed many of our patients to overcome dental anxiety and maintain healthy, beautiful smiles. Whether you undergo IV sedation or oral conscious sedation for your next treatment, your fears can be alleviated and your procedure can be over before you know it. But some patients may wonder: is it too good to be true?
At Aesthetic Smiles of New Jersey, your safety is our top priority. In fact, if you are prone to dental fear, sedation dentistry can actually create a safer environment for procedures such as porcelain veneers or other treatments. When the body is calm and still, our dentists can work with increased precision and complete procedures in less time. IV sedation is an effective method of easing your anxiety when performed by a licensed professional. All IV sedation techniques at our practice are administered by a board-certified anesthesiologist who monitors you closely throughout the entirety of your treatment. The most common side effects from IV sedation are feelings of exhaustion and grogginess after the procedure, so it will be necessary to arrange for someone to drive you home from the office.
Other sedation dentistry techniques, such as oral conscious sedation, are also effective options for individuals looking for a way to deal with dental anxiety. Oral conscious sedation simply requires you to take a small pill before your appointment, which can put you in a state of deep relaxation during the treatment. Side effects from this sedation dentistry option may include a temporary feeling of "dry mouth" until the drug's major effects wear off. Other known side effects of oral conscious sedation are temporary dizziness, lightheadedness, or a headache; however, it is rare for these effects to be serious and they will likely dissipate quickly (if you experience them at all). As a precaution, our dentists will review your medical history thoroughly before prescribing oral conscious sedation to minimize risk and maximize your safety. One thing to note: since you will likely feel very tired once the effects of this technique begin to wear off, you will need someone to drive you to and from your appointment.
At your initial consultation here at Aesthetic Smiles of New Jersey, we will evaluate your needs and help you determine the best sedation dentistry technique for your treatment. If you would like to learn how our options can help you conquer dental anxiety and achieve the smile you've always wanted, please contact our office today.