New Jersey Dentists Offer Ways to Conquer Dental Anxiety With Advanced Sedation Techniques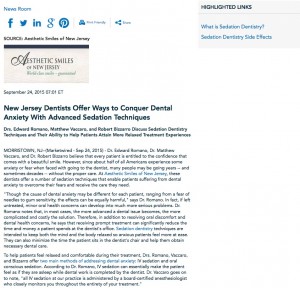 Drs. Edward Romano and Robert Bizzarro discuss sedation dentistry techniques and their ability to help patients attain more relaxed treatment experiences.
Morristown NJ – Dr. Edward Romano and Dr. Robert Bizzarro believe that every patient is entitled to the confidence that comes with a beautiful smile. However, since about half of all Americans experience some anxiety or fear when faced with going to the dentist, many people may be going years – and sometimes decades – without the proper care. At Aesthetic Smiles of New Jersey, these dentists offer a number of sedation techniques that enable patients suffering from dental anxiety to overcome their fears and receive the care they need.
"Though the cause of dental anxiety may be different for each patient, ranging from a fear of needles to gum sensitivity, the effects can be equally harmful," says Dr. Romano. In fact, if left untreated, minor oral health concerns can develop into much more serious problems. Dr. Romano notes that, in most cases, the more advanced a dental issue becomes, the more complicated and costly the solution. Therefore, in addition to resolving oral discomfort and dental health concerns, he says that receiving prompt treatment can significantly reduce the time and money a patient spends at the dentist's office. Sedation dentistry techniques are intended to keep both the mind and the body relaxed so anxious patients feel more at ease. They can also minimize the time the patient sits in the dentist's chair and help them obtain necessary dental care.
To help patients feel relaxed and comfortable during their treatment, Drs. Romano and Bizzarro offer two main methods of addressing dental anxiety: IV sedation and oral conscious sedation. According to Dr. Romano, IV sedation can essentially make the patient feel as if they are asleep while dental work is completed by the dentist. He goes on to note, "all IV sedation at our practice is administered by a board-certified anesthesiologist who closely monitors you throughout the entirety of your treatment."
Oral conscious sedation is another technique available at the practice. With this method, a small pill is taken before the procedure begins, which can help the patient feel extremely relaxed – yet conscious – during the treatment. While still able to communicate with the dental team during the procedure, Dr. Romano says patients who undergo oral conscious sedation should feel virtually no discomfort and experience a tranquil – even pleasant – dental treatment.
While oral conscious sedation dentistry can cause temporary side effects in some patients, such as lightheadedness or a "dry mouth" feeling, The Dr. says most individuals just feel somewhat groggy and sleepy after the procedure. He notes that the patient's medical history is carefully evaluated before treatment to determine which sedation techniques may be right for their needs. "If you are prone to dental fear, sedation dentistry can actually create a safer environment for procedures. When the body is calm and still, our dentists can work with increased precision and complete procedures in less time."
Drs. Romano and Bizzarro say sedation dentistry techniques provided by experienced dental professionals can truly take the fear out of dental work for many patients, ultimately providing people with a more comfortable experience and the care they need to maintain healthy teeth and beautiful smile.
About Edward A. Romano, DDS
The President of Aesthetic Smiles of New Jersey, Dr. Edward Romano is a 20-year sustaining member of the American Academy of Cosmetic Dentistry and a past president of the AACD's New Jersey Chapter. He has been a practicing dentist for nearly 30 years. An educator and lecturer in addition to his services at Aesthetic Smiles of New Jersey, Dr. Romano is a member of the American Dental Association, the Academy of General Dentistry, and other dental organizations. He currently serves as an attending dentist at Morristown Medical Center, and has been featured on many media programs, including Dateline NBC, CNN, and MSNBC. Dr. Romano is available for interview upon request.
About Robert Bizzarro, DMD
Dr. Robert Bizzarro earned his Doctor of Dental Medicine degree from the University of Medicine and Dentistry of New Jersey. During the course of his studies, he completed an internship and general practice residency under the supervision of Dr. Edward Romano. Dr. Bizzarro and the dental team at Aesthetic Smiles of New Jersey offer a comprehensive selection of general, restorative, and cosmetic dentistry options, including porcelain veneers, teeth whitening, and customized smile makeovers. Dr. Bizzarro is available for interview upon request.
For more information about Dr. Romano,Dr. Bizzarro, and Aesthetic Smiles of New Jersey, visit nationalveneerdentist.com, aestheticsmilesofnj.com, and facebook.com/aestheticsmilesnj.
Contact:
Aesthetic Smiles of New Jersey
310 Madison Avenue
Morristown, NJ 07960
(973) 285-5480
Rosemont Media
(858) 200-0044
www.rosemontmedia.com